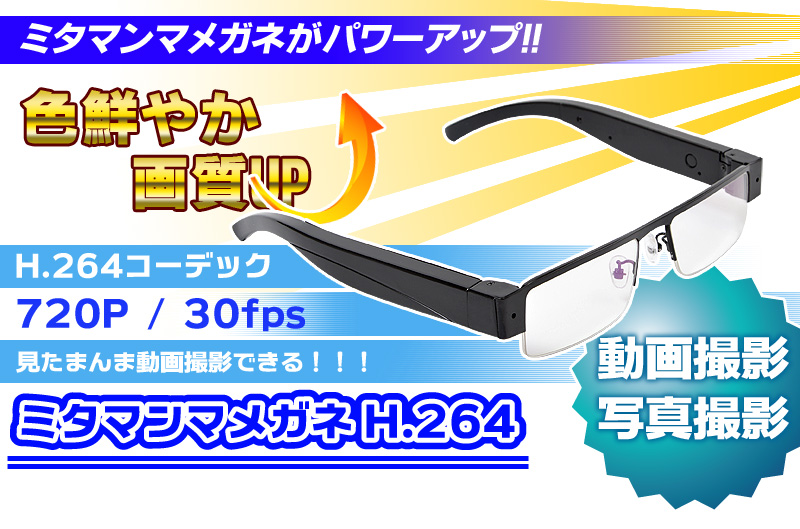 "Mitamamma-Glasses H.264" Better image quality by adaption of H.264 Codec! The eyeglasses capable of recording just as you see!
Our very popular product "Mitamamma-Glasses" is more powerful! It's called the "Mitamamma-Glasses H.264"!
The appearance is a regular pair of eyeglasses but it is capable of recording just what you see as a video.
"Mitamamma-Glasses" has better dynamic range!
More beautiful image quality compared to before! Adapting to high speed movements!
Exactly, recording just as we see with our own eyes.
●Image quality up than ever!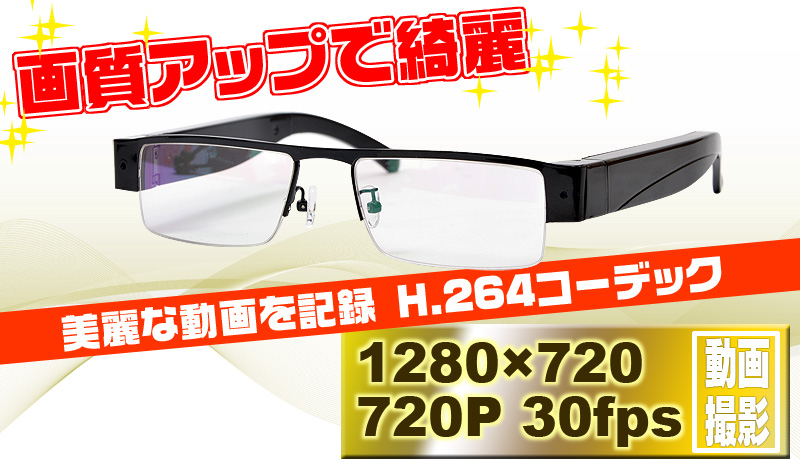 H.264 is adapted for video Codec.
Get a load of recording done on the Mitamamma with images which are so much more beautiful!
The problem of conventionally sold Mitamamma-Glasses being easy to use but having poor image quality is solved!
By adapting H.264 Codec, the image quality is made beautiful. Go ahead and use it for sports with intense movements such as cycling.
●
Support for fast motion!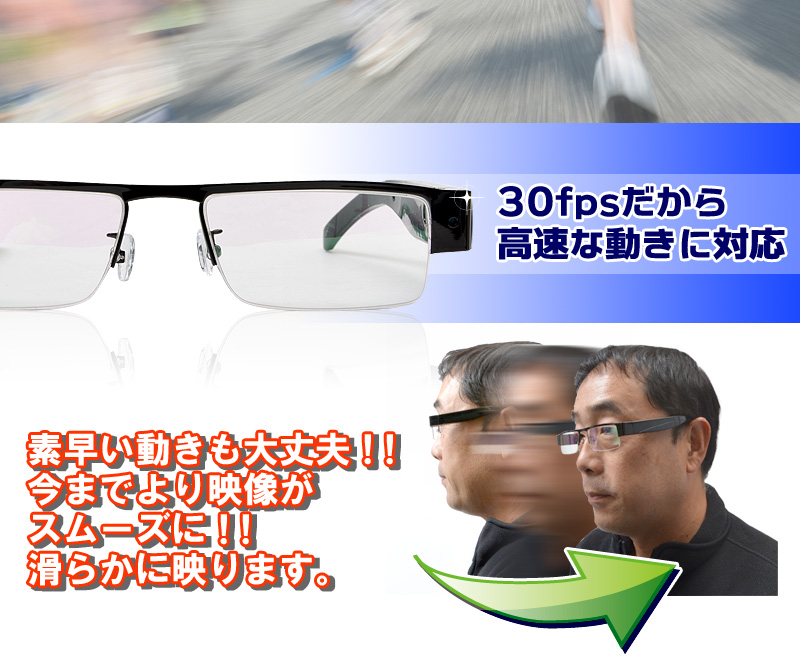 The Mitamamma-Glasses H.264 with improved functions has a frame rate of 30ftp!
The captured video is made smooth by handling rapid movements!
A more beautiful video can be made.
Go ahead and use it for sports with intense movements such as cycling.
●

Can be recorded as you see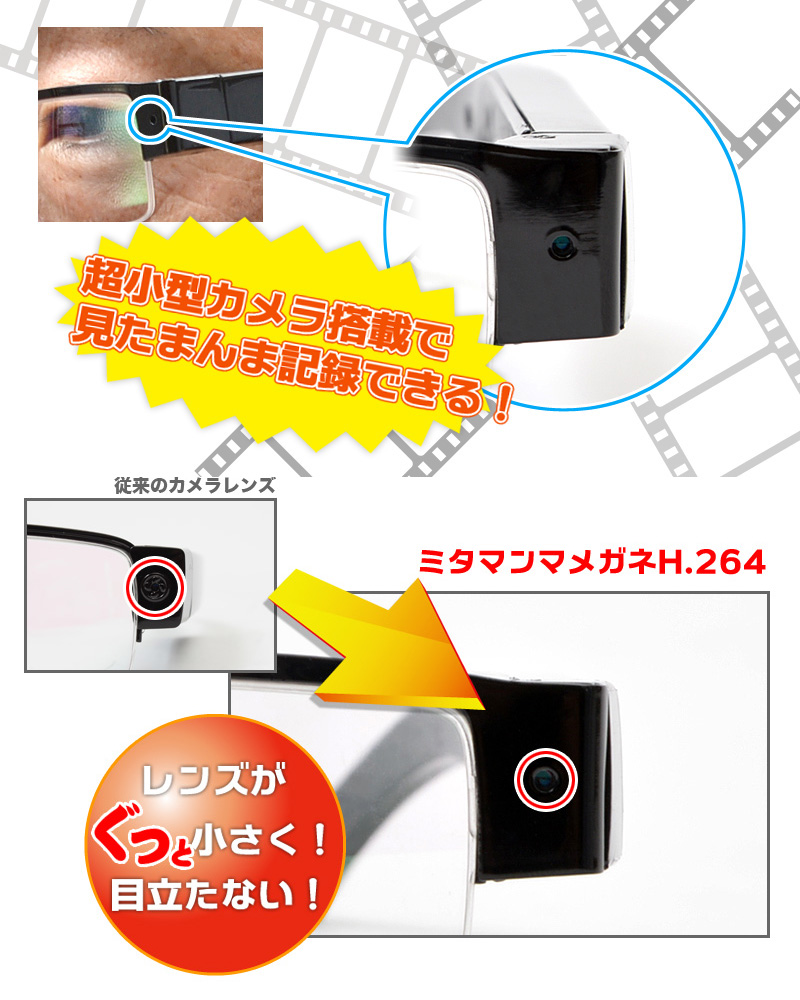 Mitamamma-Glasses H.264 has a photographic lens directly on the side of a lens of the eyeglasses.
The camera lens in the Mitamamma-Glasses H.264 has become extremely small compared to before.
They only look like regular eyeglasses at a glance.
Since it is an eyeglasses-type camera, your hands are free! Having both hands free, you can record a video which is full of life in various scenes such as travelling, cycling, driving or during sports such as baseball or tennis.
Furthermore, in the work place, there will be no overhearing of major contents if important meeting are recorded.
What happens before your eyes can be captured without any omission.
●

Simple recording

There is power source/recording button inside a temple portion of the Mitamamma-Glasses H264 and the recording is started by just giving the button a push.
Only one operation button!
●

Specification and how to use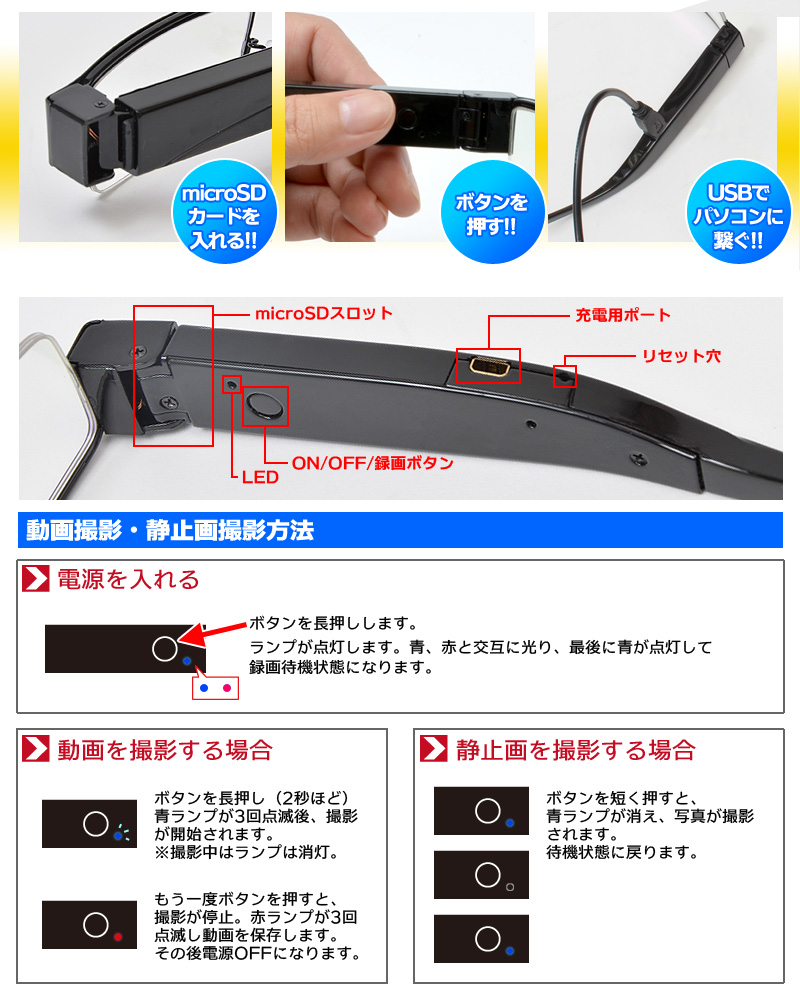 The recorded video will be stored in the microSD card. The card is capable of being stored in the eyeglasses body.
This cannot be seen from the surface while the eyeglasses are worn.
Recording can be carried out for approximately 40 minutes with a full battery.
The battery integrated in the body is charged by USB connection. Charging is automatically started by connecting the body to a USB port of such as a personal computer.
When connected to the personal computer, the captured video can be referred since the body can be used as a card reader.
---
Size (width × depth ×height) : width 150 × depth 150 ×height 30(mm)
Weight : 40g
Supported OS : Windows 8,7, Vista, XP
Power : Than USB power supply (300mA Built-in lithium-polymer battery)
Interface : mini 8Pin USB
Accessories : Storage bag, USB cable, lens cleaner cloth
Recording file : (1 = file about 340MB in 5 minutes) 720, AVI format 1280 ×: video 
Still image: 3024, JPG format 4032 × (about 0.8MB)
Recording time : About 40 minutes
Charging time : About 5-6 hours
Frame rate : 30fps
Recording Media : microSD card (2GB ~ 32GB) ※ microSD card is not included
Package Size(width × depth ×height) : width 175 × depth 62 ×height 54(mm)
I weight (with packaging) : 290g
Warranty period : 6 months
User's manual : Japanese